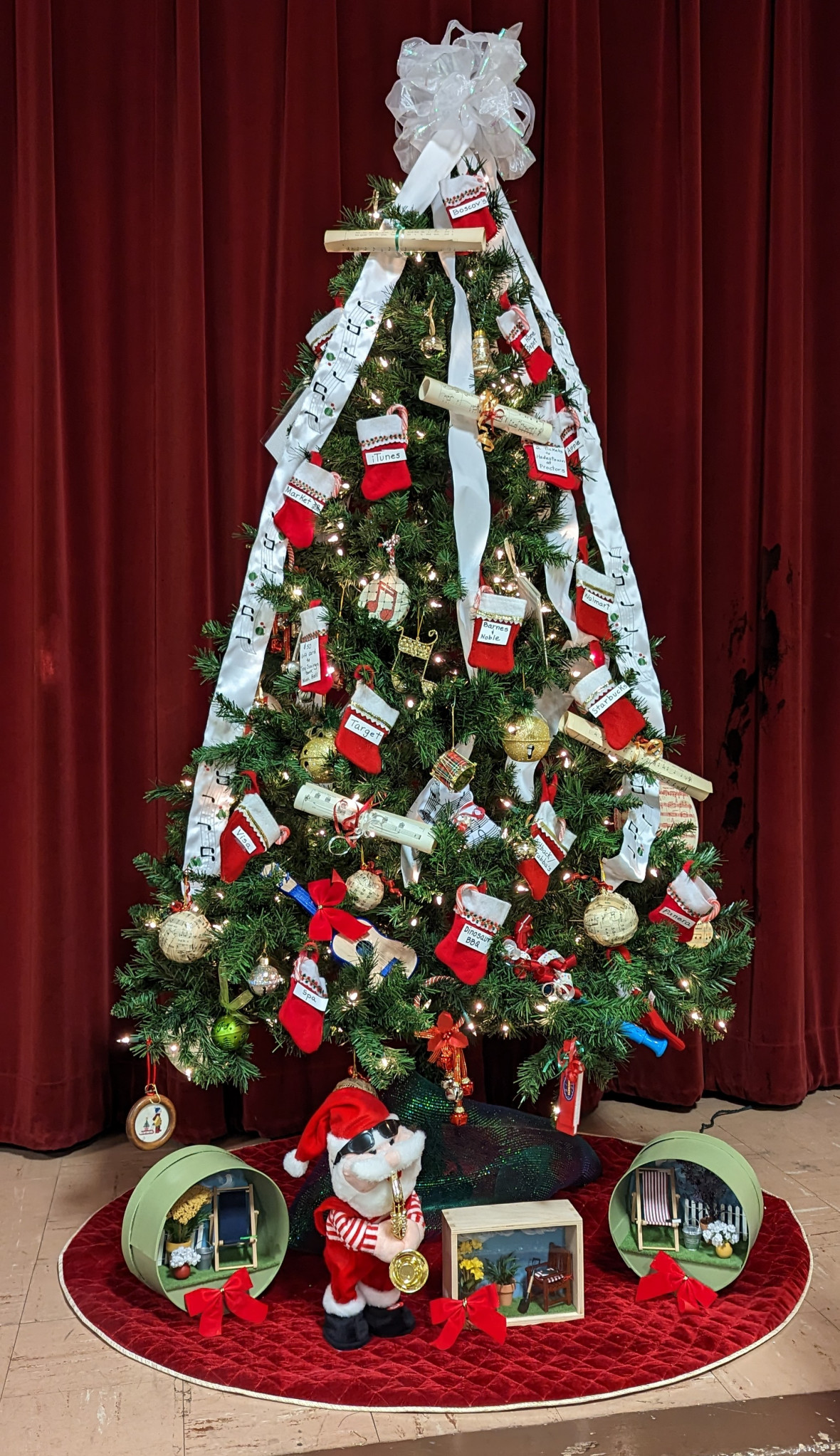 Capitaland's "Music to Your Ears" Holiday Tree Raffle
This Holiday Season, Capitaland Chorus is helping to support Building on Love. We are performing at their Holiday Extravaganza at the Cohoes Music Hall on Sunday, December 4 at 2:00pm. We are also participating in their "Trees of Hope" raffle by donating our "Music to Your Ears" tree, worth over $800.  To buy chances to win our tree..
Capitaland Chorus members have donated musical ornaments, many hand crafted, to decorate our "Music to Your Ears" Tree, which is topped with a gorgeous handcrafted bow with hand stitched streamers embroidered with a flowing musical note pattern. You can support both Building on Love and Capitaland Chorus by purchasing one or more $4 raffle tickets from one of our members, online, or at the concert for a chance to win this fabulous prize.
This tree also features a wide variety of gift cards for shopping and dining in and around the Capital Region, including: Dinosaur BBQ, Panera, Dunkin', Walmart, Boscov's and Stewarts to name only a few. It also includes: $50 gift certificate to Troy Savings Bank Music Hall, $50 gift certificate to the Music & Art studio in Latham and two (2) tickets to see Hadestown at Proctor's Theatre in Schenectady!! It also includes 3 handcrafted shadow boxes, similar to those pictured, plus a musical sax-playing Santa!
With a total value of more than $800 in gift cards this tree has something for Everyone!!
Contact one of us personally, on facebook, or by e-mail ([email protected]) to purchase raffle tickets directly from Capitaland Chorus members.
Tickets are $4/each, 5 for $20.
Purchase deadline is 12/13/2022. The drawing will take place on Friday, December 16, 2022.
All raffle tickets purchased will also be entered to win a tree loaded with $250+ in NYS Lottery Instant Win Tickets and a $250 Visa Gift Card.
Out of town winners will have all ornaments, decorations and gift cards shipped to them directly (i.e. everything but the tree.)
For more information on Building on Love, the Holiday Extravaganza, and the Trees of Hope raffle, go to buildingonlove.org.
Thank you so very much.
Happy Holidays to all!